Monday 4th to Friday 8th




May 2015
Report of 8th Annual EFCS Tutorial in Ljubljana 4-8 May 2015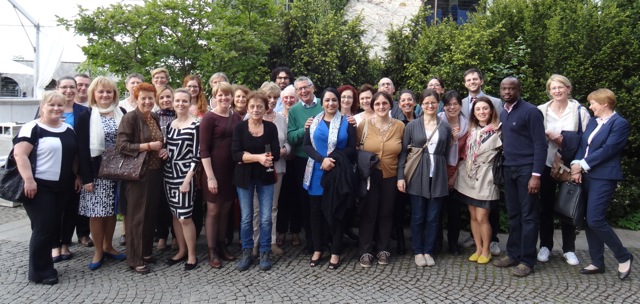 The tutorial took place at the Faculty of Medicine in the University of Ljubljana, within walking distance of the centre and the hotel in which most of the participants were staying. The local hosts were Helena Gutnik and Margareta Strojan-Fležar.
The tutorial was attended by 50 people from 14 countries: Australia (2), Belgium (2) Croatia (5), Israel (2), Italy (6), Netherland (1), Norway (1), Oman (1), Romania (1), Saudi Arabia (2), Slovenia (22), Sweden (2), United Arab Emirates (1), United Kingdom (2). Speakers were from Austria, Denmark, Italy, Norway, Slovenia, Switzerland, and the UK.
Of the 50 delegates, 53% were non-medical (cytotechnologists and biologists), 41% medical (pathologists, residents); 6% did not respond to this question.
The EFCS website attracted 34% of delegates, while 40% attended the tutorial because of personal recommendation. 19% had attended a previous tutorial and 94% would recommend the tutorial to colleagues. Other advertisements and websites attracted between 4 and 7.5% of delegates each.
The tutorial followed the established programme, with microscope slide-based workshops and lectures.
The gynaecological cytology covered 1.5 days, with slides of both conventional and liquid based slides in all the presented topics. In the following 4 days on non-gynaecological cytology were covered urinary cytology, breast, lymphomas, salivary glands, respiratory tract, serous effusions, thyroid, biliary tract and tumours of the childhood. The Eurocytology teaching website was also presented.
On Wednesday evening, a dinner was offered to all the delegates and lecturers.
All candidates submitted evaluation sheets on receiving their certificates of attendance. Lectures and workshops could be scored as excellent (1), average (2), weak (3) or inadequate (4). All average scores were between 1.0 and 1.8 indicating a highly successful and well-received tutorial.
The three most successful speakers were scored as 'excellent' in 99%, 96% and 96% of their evaluations, respectively. The percentage of 'excellent' scores for gynaecological and non-gynaecological cytology were 80% and 83% respectively.
Delegates (29 of 50) provided helpful free text comments concerning improvements that could be made to the workshops and timing of lectures, which the organisers will take account of next times.
The evaluations confirm another successful tutorial and reflect the high quality of the local organisation and venue.
The 9th tutorial will take place in Denmark in 2016. Details of the date and venue will be announced shortly on the EFCS website.