5 – 9




May




2014
The tutorial took place at the Kalyon Hotel on the seafront of Istanbul overlooking the Sea of Marmara and within walking distance of the historic sites of the Sultan Ahmet. The local hosts were Binnur Õnal for the tutorial and Ilkser Akpolat for QUATE.
The tutorial was attended by 52 participants for both the gynae sessions (plus 19 QUATE candidates) and non-gynae sessions from 18 countries: Austria (1), Azerbaijan (1) Croatia (2), Egypt (1), Ireland (1), Israel (1), Italy (1), Kazakhstan (4), Lithuania (1), Netherlands (4), Norway (3), Portugal (2), Romania (1), Russian Federation (1), Sweden (2), Saudi Arabia (1), Turkey (26), Ukraine (1). Speakers were from Austria, Canada, Italy, Switzerland, Turkey, UK and USA.
The QUATE examination in gynaecological cytology took place in an adjacent room on Tuesday 6 May and was taken by 19 candidates, 17 from Turkey and one each from the Russian Federation and Kazakhstan. These candidates also took part in the gynae part of the tutorial.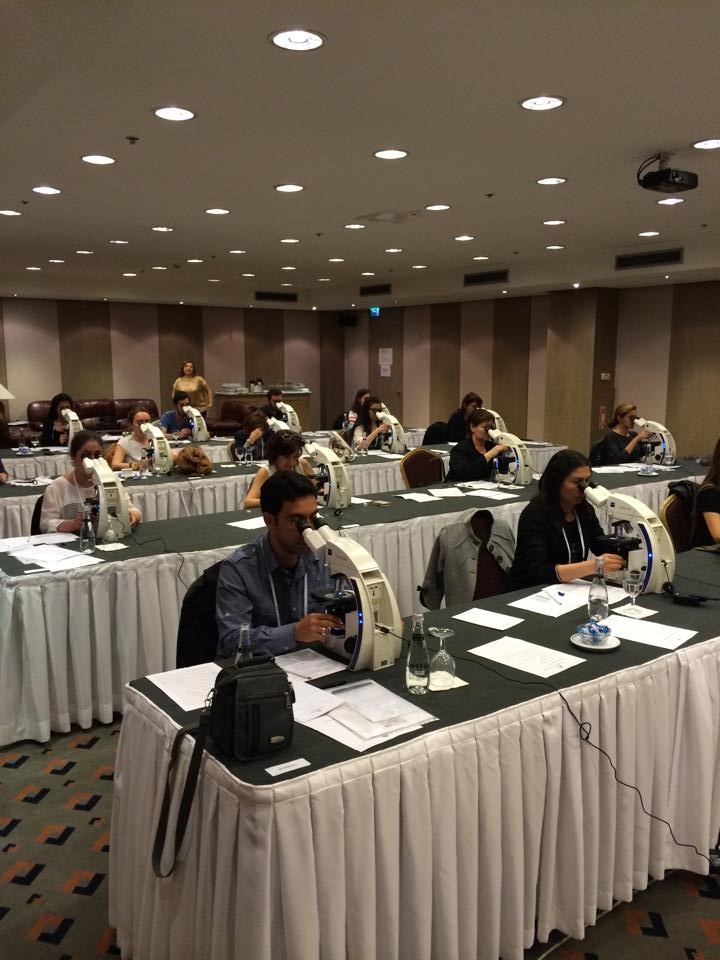 The programme followed the format of previous EFCS tutorials and comprised microscope slide-based workshops and lectures: 1.5 days on gynaecological cytology and related topics, a presentation of the Eurocytology teaching website, and 4 days on non-gynaecological topics. The latter included urinary cytology, serous effusions, respiratory tract, thyroid, breast, salivary gland, pancreato-biliary cytology, lymph nodes and lymphomas.
All candidates submitted evaluation sheets on receiving their certificates of attendance. Lectures and workshops could be scored as (excellent (1), average (2), weak (3) or inadequate (4). All average scores were between 1.0 and 1.9 indicating a highly successful and well-received tutorial.
The three most successful speakers were scored as 'excellent' in 88%, 87% and 83% of their evaluations. The average percentage scored 'excellent' for gynae cytology were 77% and 75% respectively.
The organisers take account of free text suggestions for improvements to the tutorials and evaluation scores help selection of future speakers.