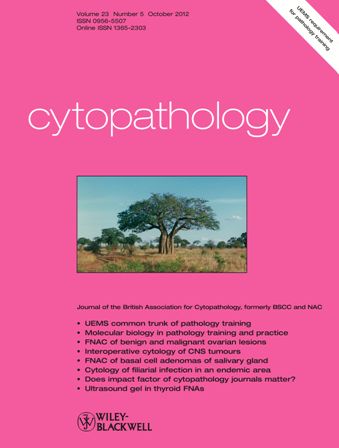 Editor's Choice: Cytopathology 2012;23(5)
Because it is important to cytopathology training and practice throughout Europe, the Editor's choice for free access during October and November is the article by Martin Tötsch and his colleagues on the Board of the EFCS, in which the final version of the UEMS document Requirement for Recognition of Postgraduate Training in Pathology is published in advance of its expected ratification by Council in October. We also draw your attention to the review article by two pathology trainees (Boyd and Boyle) and an editorial by Catherwood and colleagues, which place molecular biology as the key to integrated training and practice in pathology.
Editor's choice
M. Tötsch, C. Cuvelier, L. Vass, A. Fassina and on behalf of the participants of meeting in Paris 2012.
The UEMS Section/Board of Pathology, Chapter 6: Requirement for Recognition of Postgraduate Training in Pathology: a presentation of the Paris Document. 2012;23(5): 295-299.
Related articles in this issue
C. Boyd and D. P. Boyle.
Molecular diagnosis on tissue and cells: how it affects training and will affect practice in the future. 2012;23(5): 286-295.
M. A. Catherwood, F. Schmitt and M. Salto-Tellez
Molecular diagnostics and the training of future tissue- and cell-based pathologists. 2012;23(5):283-285.